Summer is just around the corner and there is nothing more fun and fancier than to have colored hair! There are tons of hair color ideas out there that will certainly work for you. If you are on the anime side of life then better opt for pink and blue hair. Adding up a color, hue or just a streak on your hair will spice up your life!
Pink purple and blue hair have been on the trend for their bright and eye-catching shade. It is the color of the sea and skies! It can look sleek and unique at the same time depending on the shade you will apply. So, let us share with you some great pink and blue hair dye ideas on this shade through this article.
Top 3 Blue and Pink Hair Ideas
1. Warm Pink Shades
The warm pink blue hair shade is usually a lot muted and earthy as compared to cool pinks. It has a more yellow trace. This kind of pink blue shade makes them perfect for individuals who wish to add a soft dash of pink to their hair without the worry of going overboard.
2. Cool Pink/Blue
These particular shades differ from soft baby pinks to dark fuchsias and normally consist of a blue trace. The cool pink  and blue hair color creates a perfect look like a pop of color and resulting in an eye-catching distinction contrary to darker hair colors.
3. Warm Blue
This warm blue hair shade is a lot softer as compared to cool blues. It offers a greener trace. This makes them perfect for individuals who wish to make their hair some color without the worries of making it too bright.
5 Hairstyles Perfect for Pink Blue Hair Shade
1. Half and Half Hair Style
Half and half is one of the trendiest blue and pink hair shades today. You can have both of blue and pink shades. You can choose from baby blue with the hue of pinks or even mix the two shades in the middle to create a sky-like shade. You can also maintain the normal shade of your hair on top and only color the two sections on the end. This blue and pink hair style is perfect for anime girls with pink hair and blue eyes.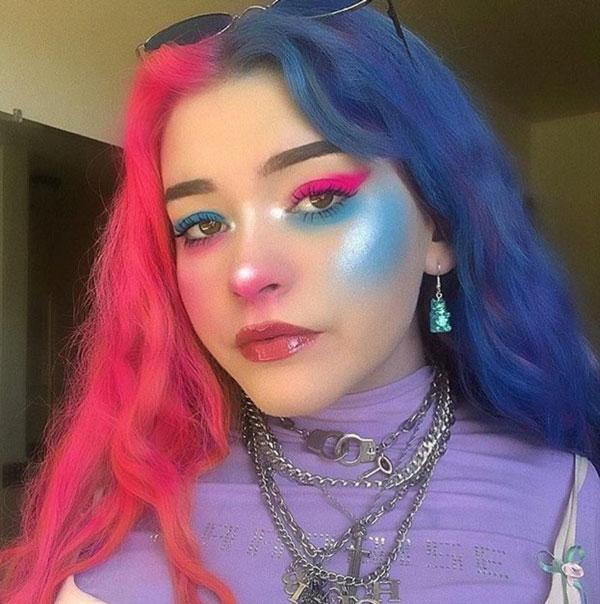 2. Ombre
Ombre or as known as the color melt is another great way to show off two shades of hair dye in gradual transition. Why not lighten the roots first then go lighter tones at the bottom. It is a good idea to try blue pink ombre. Go for baby blue and soft pink for a pretty and more delicate result.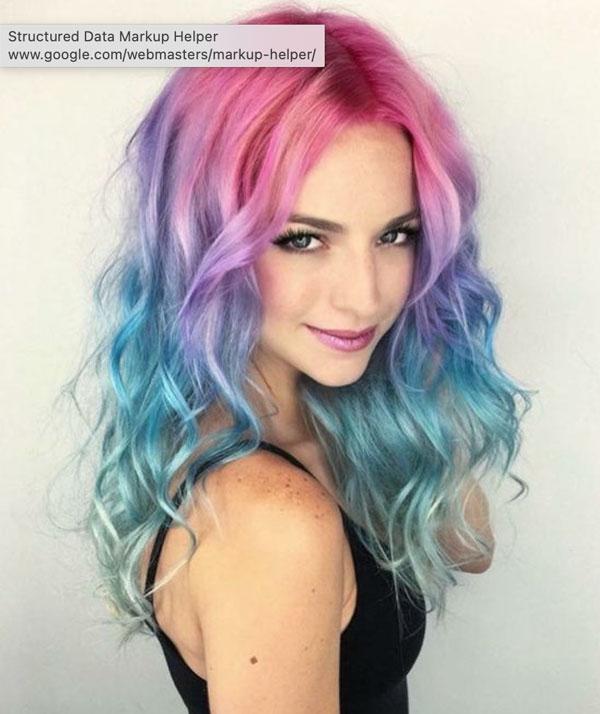 3. Mermaid
If you are looking for a more effective way to create a statement then this shade will do the trick! You can choose from shades of turquoise, ice blue, lilac, soft pink to bring the sea into life. Ready to try pink blue mermaid hair shade.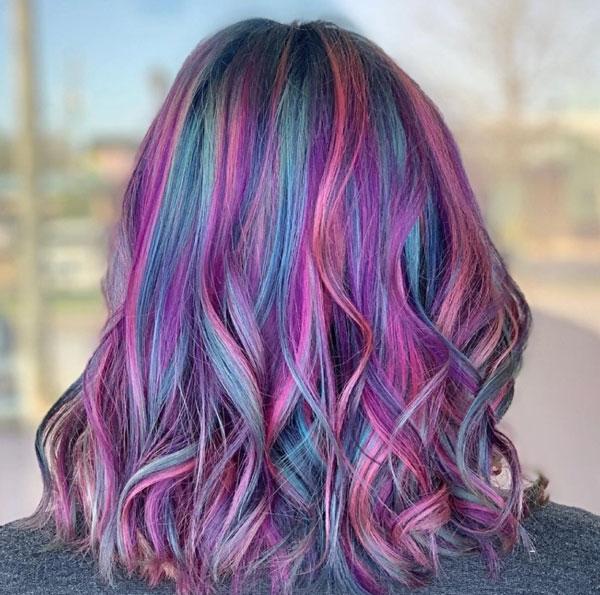 4. Hair Streaks
If you are on the more conservative side then this kind of pink blue hair dye will create a nice result without the worries of overpowering. But if you are a bold kind of person then better opt for a brighter shade like blue and pink!
5. Peekaboo
Looking for another way to make fun with your hair? Then why not go for a peekaboo style. Go for your normal shade on top then add the perfect color of blue and pink hair underneath. You can also mix other shades like purple or rainbow color to create a unicorn effect.
Bleaching to Achieve Blue and Pink Hair
Do I need to bleach my hair to get perfect blue pink color? Yes, you need to bleach your hair if you wish to achieve the blue and pink hair result. Even if you are already blonde or have a lighter shade of normal colored hair, you still need to bleach your tresses to get the best result.
Dark Hair
If you have dark hair then you need to bleach your tresses. Through this, you will get the best result ever. The blue pink color will be vibrant and full of life. It is a must that you let a professional do it for you to avoid any issue such as hair fall or damage. They are the ones who can give you the best answer if your hair will be able to withstand the whole process.
Light Hair
Even if you have light hair, you still need to bleach it depending on the brightness you wish for your hair. For example, you will need a bleached base if you wish to apply pastel color. But if you wish to apply a darker shade of pink blue color then you will no longer bleach your hair.
How to Properly Bleach Your Hair to Get Blue Pink Color
1. Bleach
If you wish to achieve the perfect pink blue hair dye color, then you need to strip the original color of your hair. That's where hair bleaching steps in. Bear in mind that bleaching is a crucial part of hair coloring. Doing it wrong will damage your hair. (If so, you can grow hair faster with argan oil.) When applying bleach, make sure that you protect your skin and eyes.
2. Prepare for Hair Bleach
If you are doing the bleaching with a friend, make sure that you read and follow the instructions well. Cover your bleached hair with a shower cap and leave it according to the time suggested. Never leave it longer than recommended.
3. Rinse and Shampoo
Do not apply any conditioner. (Mix two different shampoos to better hair wash.)
4. Tone
No matter how much you bleach your hair, there will still be yellow and orange tones left. Tone it to balance the color. Once you are done applying the toner on your hair, rinse it and shampoo. Do not apply any conditioner.
5. Dye Blue Pink
First, decide the pink blue color you wish to apply (Bear in mind there's no turning back once you have applied the dye to your hair. Or you can try food coloring hair dye first.). We recommend that you buy a brighter shade of color if you wish to achieve a pastel effect. For example, if you wish to apply a soft pink then opt for a hot pink dye.
6. Rinse and Condition
Rinse it well, shampoo, and apply tons of conditioner. (If you want to get chemical-less conditioner, you can DIY natural hair conditioners by yourself.)
Doing the DIY blue and pink coloring of your hair is not that hard. You just have to choose the perfect shade you desire and follow the instructions well to achieve the blue and pink hair result. With this, you will not only get the best-colored hair ever but will also avoid any hair damage. To fix hair damages, you can perform a hot oil treatment at home with low cost.