Many senior citizens are interested in learning how to cover up those annoying gray and white hairs. They do this so they'll look younger. But how long does a semi permanent hair dye last?
How Long Can Semi Permanent Hair Dye Last?
Yes, covering up one's greying hair is a sign that you're growing older year by year. If you are doing the touch-up yourself, you should read the instructions closely so you can apply the hair dye the right way. This will help make the semi-permanent hair dye last longer.
Once you apply it, you can wash your hair up to 28 times (or you can call it 4 weeks or so.) before you'd need a touch-up. Some people need a touch-up more than others, such as when roots start to show under a light hair color. If you're not sure how long your hair color will last, ask a skilled stylist for tips.
Semi Permanent Black Hair Dye, How Long Does It Last?
The good thing about semi-permanent hair dye is that it's offered in a range of different colors and shades. This means you can opt to dye your hair black, if that was the original color you were born with. (Check how to cover grey hair.) But not everyone looks good with black hair, so you should be cautious. You should also take into account how long this kind of hair coloring will last before it is washed away with regular shampooing.
Generally, if you use a black semi-permanent hair color, you can expect it to stay on your hair for around six weeks. After that, you have the option of dyeing your hair black again, or use a different color and shade instead. You could also opt to let your regular white or grey hairs remain undyed after the six weeks are over.
Does Semi Permanent Hair Dye Good for You?
The truth is, dyeing your hair is not a magic bullet that will make your hair more appealing right away. There are some factors to take into account.
For instance, is your hair more porous than those of the average senior? That may mean it will absorb more of the dye, compared to the hair of other seniors.
Are you allergic to the hair dye? If you've never tried dyeing your hair and it absorbs more of the dye, you may keep a written record so that you can check your reaction to the hair dye. Sometimes, it may be a good idea to test the dye on a few hair strands at the start. Or place some of the dye on the back of your hand. This will help determine if you are allergic, before you subject all your hair to the hair dye process.
Is your hair currently in a healthy and vibrant state? If your hair is too rough and has many split ends (such as when a harsh permanent dye was previously applied to it), you may have to let your hair grow out first until it's at a suitable length then have it trimmed. That would allow the dye to complement your desired hairstyle.
Some semi-permanent hair color brands are more dependable and legit than others. If you're not sure which ones are so, check with the Food and Drug Administration if they have a list of brands that are dangerous to use by certain individuals.
You may interest at:
How to Make Semi Permanent Hair Dye Last Longer?
It is usually a good idea to let your hair get healthier before you opt for a semi-permanent hair dye. If you had applied a permanent hair dye to it before, which could have wrecked the texture of the hair strands, this may mean you need to let the affected parts grow out first then trimmed away. This will allow the subsequent semi-permanent hair color to do its job better. 
As mentioned, healthy hair that is lush and glossy and is porous enough may absorb more of the semi-permanent hair dye. If you use a shampoo (use two different shampoos at the same time) specially designed for use on dyed hair, your dyed hair could maintain the color and shade longer. Using a shampoo that is quite strong can bleed away more of the color than you anticipated.
You may also need a deeply nourishing hair conditioner for your dyed hair too. This may smoothen hair strands that are rough or tend to split. To find the right brand to suit your hair, you can ask a professional stylist for help. Or you can just do trial and error.
If you're not sure how to take care of your dyed hair, you may want to ask your hairstylist to recommend any products that can keep the color on your hair for a longer time. For example, there may be some hair products that can deep condition your hair prior to the hair dye session so that the hair strands become healthier first.
Further Reading: 
Other Hair Coloring Alternatives to Semi Permanent Hair Dye
Though semi-permanent hair dye doesn't always seem to be the right option, the good news is that you don't have to limit yourself to just one type of coloring medium. This is especially nice for seniors who just want to look more polished during an important event. Seniors can also opt for this if they're not ready for a really bold new color statement. 
One option that may work for seniors who don't want a permanent or semi permanent hair dye is hair chalk. This product allows you to apply the coloring to your hair strands on the surface only. The advantage with this is that you can wash it out immediately after your event then apply another color of hair chalk afterwards.
Or, if hair chalk doesn't appeal to you, you may try coloring sprays instead. Canned coloring sprays will cover the hair on the surface with your preferred color. They do not need to be applied like hair dyes at all.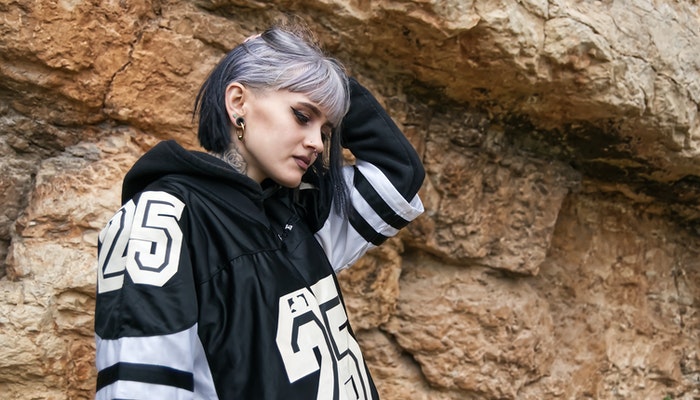 FAQs of Semi Permanent Hair Color
Is A Semi-Permanent Hair Dye Less Harsh on Hair?
Yes, you are less likely to have broken or rough hair strands afterwards.
Can Your Preferred Semi-Permanent Hair Dye Be Less Bold?
Yes, a semi-permanent hair dye can be a milder version of the color you want.
Where Can You Get a Semi-Permanent Hair Dye?
You can visit your nearby hair salon or barber shop to have your hair dyed or dye it yourself at home, if you know how.
If you want to experiment with hair colors, a semi-permanent hair dye may be just the thing to use. You can try out different colors and shades, as you please, to see which ones complement your hair, hairstyle, and skin color. The great thing about semi-permanent hair color is that once you tire of one color or shade, you can always try out other colors and shades in the future.